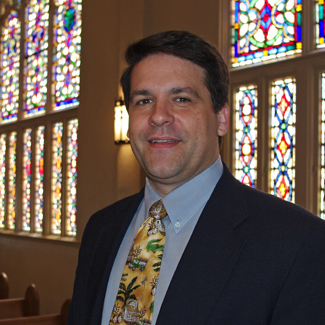 Chip was born in California, the son of a U.S. Air Force pilot. He grew up in Baton Rouge, Louisiana, where he graduated from Baton Rouge Magnet High School, where he met his future wife, Leslie. Both were active in Young Life, and Chip is an Eagle Scout.
Chip and Leslie moved on to the University of Southwestern Louisiana in Lafayette, where Chip majored in Business Administration, with an emphasis in marketing. Leslie majored in Home Economics, then went on to earn a Masters degree in Social Work at Louisiana State University. Chip worked in the computer graphics and printing industry for seventeen years, running his own graphics company for eight years before feeling called to the ministry. Leslie worked as a Licensed Clinical Social Worker in adoptions and mental health before moving on to teach preschool and kindergarten. For many years Leslie served in leadership with Bible Study Fellowship in Lafayette, Pittsburgh, and Corpus Christi. Both were very active at First Presbyterian Church in Baton Rouge, where Chip served as a deacon, and later at Grace Presbyterian Church in Lafayette where they worked with the youth and Chip served as an elder.
The Lord called Chip to Pittsburgh Theological Seminary, where he received his Master of Divinity degree in 2009. During his seminary years, Chip served as a seminary intern at Hebron United Presbyterian Church, a church of about 800 members with three worship services each Sunday. Leslie taught kindergarten at the Pittsburgh Urban Christian School. Chip is currently pursuing a Doctor of Ministry at Gordon-Conwell Theological Seminary.
The Blackshear's have two children: Michael, who earned his Eagle Scout in Troop 2 and is a college student studying electrical engineering at the University of Tulsa, and Robin, who is studying Film and Video Production at Texas A&M Corpus Christi and serves as a Young Life leader.
Chip is passionate about providing a strong and meaningful Sunday morning worship service. He is personable, creative and enthusiastic. He is great at both preaching and teaching. Chip feels his calling is to enable our members to grow spiritually. You will enjoy getting to know Chip and his family, and having them in your life.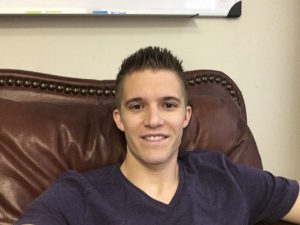 Seminary Intern
Aaron came to First Presbyterian Church in January 2017. His father was in the Army, so home is always wherever his family ends up. Aaron met his wife Abi at Northland International University in Dunbar, Wisconsin. They were married in June 2012 and have 3 children. After graduating from Bible college with a degree in Biblical Languages, Aaron worked in a variety of vocations including as a teaching assistant in Greek, starting a financial education business, teaching in a Christian school, and serving as a youth director.
After several years of praying, God directed Aaron to finish seminary locally through the South Texas School of Christian Studies, which he will complete in 2019. After seminary completion, Aaron will be going into the US Navy as a military chaplain. Aaron enjoys board games, video games, and sports. The best way to Aaron's heart is through his stomach though, and sushi or Korean BBQ never disappoints.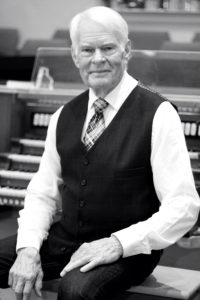 Roy Daniels, Music Director, was raised in Shawnee, Oklahoma. He obtained bachelors degrees at the University of Oklahoma in music education, in bassoon, and in organ. He obtained a masters degree in organ performance, also from the University of Oklahoma. In military service, Roy taught at the Navy School of Music and played in the National Symphony Orchestra in Washington, D.C.
Roy then followed his culinary heart into the restaurant business. He served as banquet manager for Hyatt's Arizona operation. He opened three hotels in San Diego. He was co-owner of a cabaret in San Francisco. He obtained an associate degree from the California Culinary Academy in San Francisco, and a Diplome de Cuisine from Le Cordon Bleu in Paris, France.
Roy played bassoon in various symphony orchestras as he moved from city to city. He then became involved in the music programs of churches wherever he lived. Roy has presented organ recitals in Westminster Abbey in London, performed an organ recital after vespers at Notre Dame in Paris, as well as given recitals throughout England and Wales. His choir from St. Michael's church even performed at Carnegie Hall in New York City. Roy is a member of the American Guild of Organists (and past president of his local chapter), the Association of Anglican Musicians, the American Guild of English Handbell Ringers, and the Royal School of Church Musicians.
Roy served as the organist at the Paradise Valley Methodist Church in Arizona for ten years, served as organist/choir director at Gethsemane Lutheran Church in San Diego for another ten years, and served as organist/director of music at St. Michael's by-the-sea Episcopal Church in California for 17 years, which he left to join us in Corpus Christi. At St. Michael's, a church of 900 members, Roy directed 5 separate choirs (including children and handbells), with three services (one of which was for hymns only), as well as directing a Concert Series and other special programs. Roy also provides a recording service for musical performances, producing a professionally mastered CD with full graphics, using his own equipment.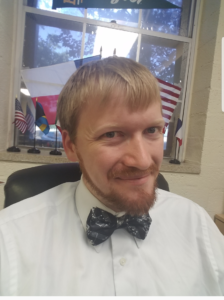 David Corkill, Youth Director, came to us in 2016. He is from La Grange, Texas, and grew up in the First Presbyterian Church in La Grange, where he became a leader within the youth at that church, a committed member of young life, and the director of the adult chancel choir for his last three years of high school. He then went on to Education an Music school at Baylor University.
After graduating from Baylor in 2011, he got a job as a Social Studies and Music teacher at Rapport Academy in Waco. David taught there for four years before being hired as the Choir Director, Band Director, and Theater Director at Annapolis Christian Academy in Corpus Christi. As well as working full time at Annapolis, David is a member of the First Presbyterian Choir, a percussionist in the Corpus Christi Wind Symphony, and an actor at both the Harbor Playhouse and Aurora Arts Theater in Corpus Christi. David is thrilled to be the Youth Director at First Pres and looks forward to a bright future filled with fellowship, family, and fun with the youth at First Pres.