Preschool-Mothers Day Out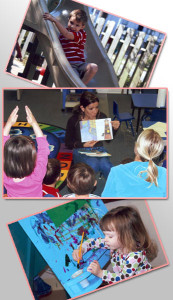 THE FIRST PRESBYTERIAN PRESCHOOL
The Preschool currently provides a Christian education for students from ages 20 months through 4 (pre-kindergarten). First Presbyterian offers the most flexible program in Corpus Christi. Parents can choose for their children to attend two, three, or five days per week. Early care will run from 7:30 a.m. to 9:00 a.m., with school hours from 9:00 a.m. until 2:00 p.m. After Care is available from 2:00 p.m. to 5:30 p.m. Registration for the coming year is encouraged. Please call the school office for more information at 887-7116.
INFANTS AND TODDLERS
We offer childcare for newborns and young toddlers as well. Call to reserve a spot.
The staff administers a program of Christian learning and enrichment, as well as fun and games, developing basic skills and preparing the children for pre-kindergarten.